Faux Wood Blinds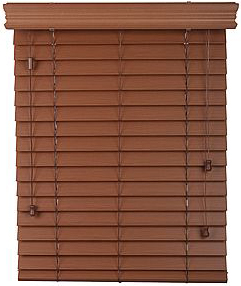 FAUX WOOD BLINDS (PHILIPPINES) – Faux wood blinds, coming from the name itself "faux" simply implies that this type of blind is an imitation from a wood blind. It is also commonly known as fake wood blinds or sometimes called as durawood blinds. Despite its name, faux wood blind offers the elegant appearance of a real wood blind, without having to pay more.
Because of its durability, ease of maintenance and resistance to humid environments, faux wood blinds easily became a popular choice for areas that are usually exposed in sunlight, and places which are likely to have moist or humid environments, such as spas, bathrooms and kitchens.
Faux wood blinds are also classified into two: PVC(polyvinyl chloride) blinds, and composite blinds. PVC wood blinds are made of man-made vinyl polymer, which is also much cheaper than the later. While Composite wood blinds are constructed from the combination of pvc, vinyl and wood particles. Though composite wood blind is much expensive than its counterpart, this type of blind looks more classy, much lighter, and lasts much longer than the PVC wood blinds.
On top of these effective and functional characteristics, faux woods come in wide variety of colors that will surely add zest and makes a perfect choice to any room.
Related posts