The Pleated White Combi Blinds Matched with Brick Style Wallpaper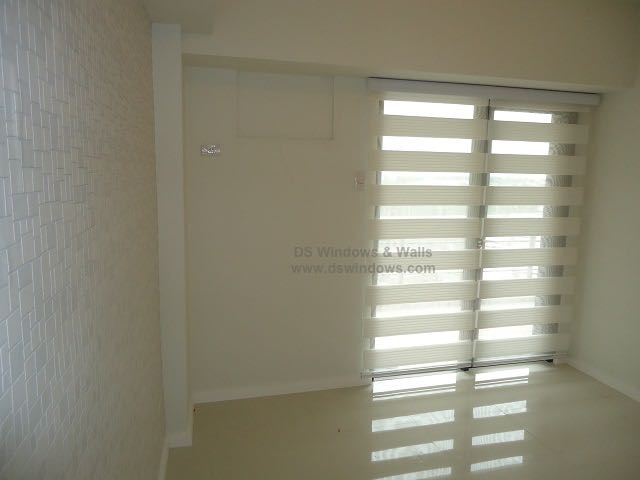 For this article we are featuring the pleated white combi blinds that's creatively matched with white brick wallpaper. The pleat style combi blinds is achieved during manufacturing process by folding multiple fabrics together through stitching. The total effect of this pleating is what you see in the photo. Currently we have 5 colors for plated combi blinds (that you would be able see at our webstore) and its horizontal panels is a bit wider than its non-pleated counterparts.
Combi Blinds are unique roll up fabric that appears like a horizontal blind that became one of the most innovative blinds today and because of its still increasing popularity; it doesn't stop developing new design to accommodate every needs of our client. Combi blinds started with the combination of the fabric, sheer and solid part place alternately to form a dual fabric with horizontal lining that create an illusion that appears like a normal Venetian blinds style. The first generation combi blinds are only designed without any additional printed pattern on the solid fabric and a simple net type of sheer part, but, as you know more and more unique design is produced to give different variety choice and offer a creative style for window treatments. Pleated Combi Blinds are one of the first new styles of Combi blinds produce that has a superior look compared to the first generation combi blinds.
Pleated Combi blinds updated a new feature with the additional folded fabrics that creates a stylish lining on its solid fabric part. With its noticeable lining when installed in your windows, this type of blinds enhance and give additional character in your room that makes the room stand out more. One of our clients opted for white pleated Combi blinds that complement the white brick style wallpaper.
Texture may not be as noticeable, but the effect can be dramatic, can add dimension to a room and can undeniably make a statement. It appeals to our visual sense that makes the room interesting. Modern interior design encourages experimenting and creating truly personal, creative and impressive room's style. Our client wants to create a room that is personal, spectacular and comfortable space, with the use of adding design ideas like adding patterns, texture and shapes.  And the best way to add texture is using brick wallpaper and pleated Combi blinds for window covering.  With the use of combining brick wallpaper and pleated Combi blinds you add a contemporary shape and texture that gives unique feature and character to your room.
Bringing unusual shapes can enhance your rooms with fresh modern ideas like our clients. Brick wallpaper and pleated Combi blinds provides a unique texture and shape that makes the room feel cozy, luxurious and interesting.  Our client also smartly favors white color because the room is surrounded with a brick texture so it's better to use a relaxing color than something powerful to not make the room look chaotic.  White pleated Combi blinds also give a beautiful and elegant lining and provide bright yet welcoming natural sun lights that brightens up the whole room and atmosphere.
DS Windows & Walls is one of the leading company in providing blinds, carpet, accordion door and wallpaper. For more inquiries please call us at (02) 893-1373 / (02) 403-3262 / 668-9668 / 0916-311-3909 or visit our showroom at 2nd level Pacific Mall Lucena City, 3rd level Robinsons Metro East, Pasig City and 4th level Waltermart, Makati City.
Related posts