Simple Dining Room and Kitchen Renovation Ideas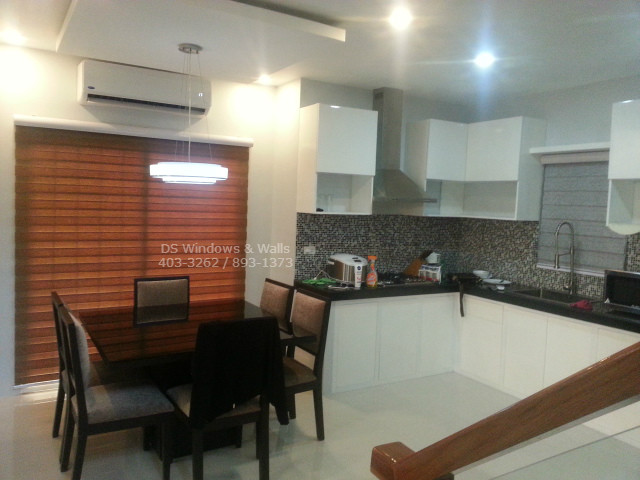 There's a lot of ways to modernize your kitchen while keeping the natural charm of the place, but lose the outdated feel, and gain maximum efficiency to fit modern times. One of our clients take a step forward to renovate her old kitchen and choose to start by using the concept of open floor plan.  Following an open floor plan help to make her kitchen feel much larger and allow the space to flow freely within the dining area and kitchen.
If you're renovating your kitchen, using advance appliances is also a must but if you have limited space like our client you need to be wise and more resourceful. In a limited space kitchen like this you don't have to limit yourself in using some advance appliances for cooking just downsizing is the best way to go. Installing stove vent just enough to fit with the size of the electric induction stove is one way to save space while enjoying the best kitchen appliances.
Our client also favors to use white as the dominant color of the kitchen. Painting the wall and cabinet with light color plus having a large window that comes with plenty of natural light makes the room feel more open and airy and preventing this small kitchen from feeling cramped. To make the room more interesting, they also use small black and white tiles as the backsplash that match well with the black marble countertop and gray combi blinds as window treatment. The sleek, clean lines of the backsplash tiles and gray combi blinds create a soothing focal point in the kitchen.
Lightning is also important because it can visually expand the space and help to uplift the overall tone and mood of the kitchen. For our client, they choose a simple and bright chandelier place exactly at the top of the dining table to make sure that while they eat they have enough light to set a lively mood.  As you can see in the last picture, they also choose a dark dining table, making it stand out in the room.
Lastly, since installing large windows with white walls using a brown window blinds can prevent the room ending dull. Also, don't forget to use window treatment that looks simple yet its oozing with elegance and match with modern motif which combi blinds can be all at the same time. Combi Blinds is known as the most modern blinds today and it's simple appearance yet full of elegance match well with the overall kitchen design of our client.
For more inquiries please call us at (02) 893-1373 / (02) 403-3262 / (02) 668-9668 / 0916-311-3909 or visit our showroom at 2nd level Pacific Mall Lucena City, 3rd level Robinsons Metro East, Pasig City and 4th level Waltermart, Makati City.
Related posts