Faux Wood Blinds for Challenging yet Satisfying White Interior – Quezon City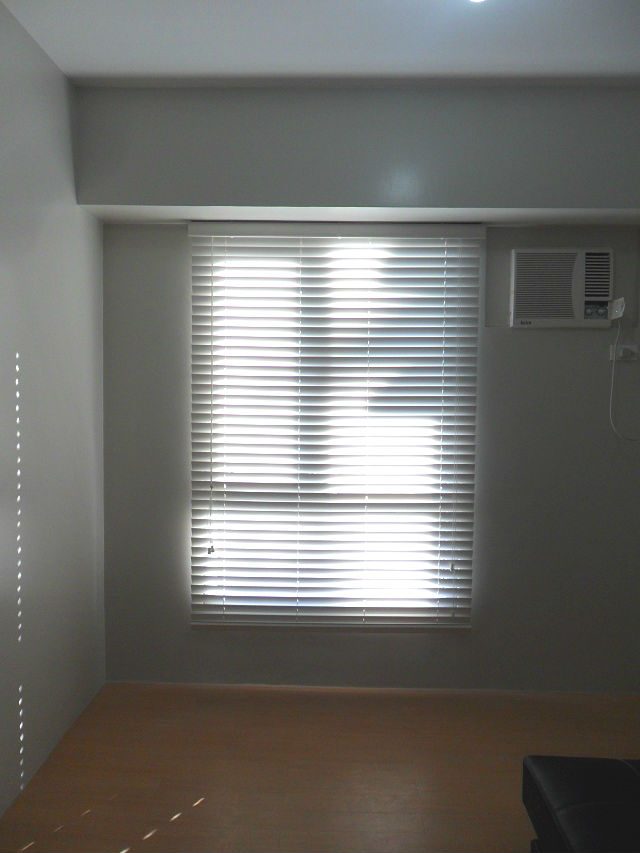 White Interior, some are so bored looking at white interior but others really loves white for it is a sign of purity and cleanliness. All white interior seems to be boring, the repetition of design, scale and proportion makes white interior very dull and lifeless. To be able to have a soothing an appealing white interior, try to fix some elements of design in your house. For most decorators and interior designers, white interior seems to be intimidating and hard to fix while others think that white interior is very easy to design.
White interior is very challenging, balance and proper spacing of every furniture accessories and other home design is very important. If you are planning to do some white interior on your own with elegant touch and satisfying look, try to do some research like what our client from Quezon City did. Our client has a simple yet chic home space. To be able for them to continue the white interior in their condominium unit, they decided to purchase a custom-made white color Faux wood blinds together with a brown flooring just to match with their white and clean looking interior.
Faux wood blinds are perfect for any interior for it consists of wide array of colors. It is becoming more and more popular in the market due to its durability, functionality and affordability. If you want to purchase different kinds of window treatments, e.g. faux wood blinds, wooden blinds, roller blinds, combi blinds, vertical blinds, venetian blinds, and many more, feel free to contact DS Windows & Walls Interior Supply.
Showrooms:
4th level Waltermart, Makati City
3rd level Robinsons Metro East, Pasig City
2nd level Pacific Mall, Lucena City
Contact #:
(02) 893-1373
(02) 403-3262
0916-311-3909
Email: inquiry@dswindows.com
Related posts