Cedar Foam Wood Blinds With Ceiling Plank Living Room Design – Taguig City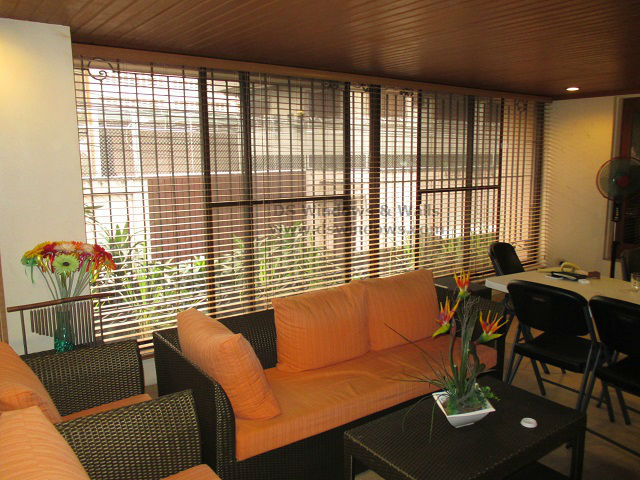 Most of us will agree that a lot of homeowners gives a lot of attention details to window treatment, walls, and even the flooring. Did you know that there's also a lot of options when it comes to designing the ceiling as well? Though it's probably the biggest single surface in any room a lot of homes built today use plain white gypsum drywall for ceiling surfaces. The ceiling can help define the style of a home and it has lots of different types that can take your interior design to a dramatic new level.
One of the most popular and ideal ceiling for home today are the ceiling plank, drop ceiling, coffered ceiling, ceiling tiles and many more. One of our clients in Taguig City used to have a plain and boring white ceiling and they wanted to make it more interesting by installing a wood plank ceiling that can warm up and enhance their room décor. Ceiling planks can be used in almost any setting and their sophisticated looking that's why our client chooses to install it in their new renovated living room. They also favor ceiling planks because it's constructed from a medium-density fiberboard, so it's lightweight, durable and affordable. Wood ceiling plank can also imitate the ambiance and look of a centuries old house and our client is also fascinated in achieving a bit of traditional charm in their more modern home design with the help of ceiling plank.
Using a unique ceiling can greatly improve your interior home, but it will never really be complete if you leave your windows bare that's why our client also installed Cedar Foam Wood Blinds for window treatment with the same color of the ceiling. Using the same color for foam wood blinds and the ceiling builds a connection and balance in the entire room design. Plus foam wood blinds is a perfect imitation of real wood blinds that also gives an old fashion ambiance with a touch elegance and modernity adding a traditional feel in a modern theme living room that gives a warm and cozy ambiance just about for every home needs.
DS Windows & Walls is one of the leading company in providing blinds, carpet, accordion door and wallpaper. When it comes to providing the best interior supply for your home, we can guarantee to offer our client the best quality of our product and services to satisfy the needs and wants of all our customers. We can offer different type of blinds for window treatment, wallpaper for the wall covering and carpet for flooring. For more inquiries please call us at (02) 893-1373 / (02) 403-3262 / (02) 668-9668 / 0916-311-3909 or visit our showroom at 2nd level Pacific Mall Lucena City, 3rd level Robinsons Metro East, Pasig City and 4th level Waltermart, Makati City.
Related posts