Roller Shades for Sliding Doors for a Functional Living Room: Cabuyao Laguna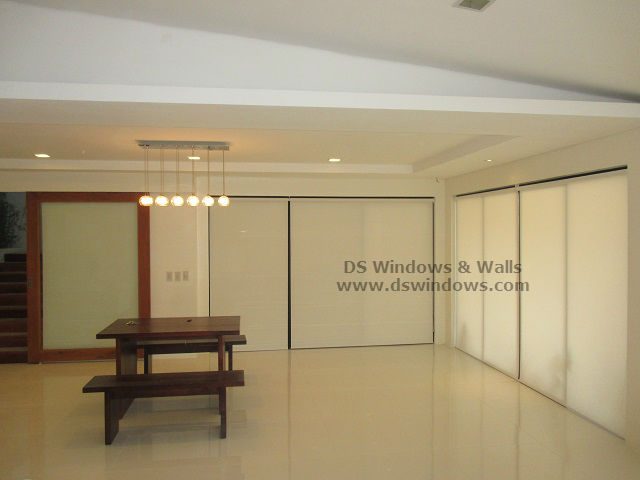 Interior decorating with modern living room designs feature comfortable furniture location and good arrangement of existing spaces. Beautiful living rooms must look sophisticated, striking and functional, offering excellent interior design. Modern living rooms can be implemented in small or large spacious living room. Although larger spaces is easier to decorate since there are lots of features, furniture, and styles can be applied.
Modern window treatments have a big part in making your living room aesthetically appealing and make your interior decorating more comfortable and welcoming. Selecting the most suitable window treatments for your windows and doors that fits your windows perfectly in terms of size, color and style are an essential part of designing your gorgeous, functional and stylish home. Roller Shades have all this criteria in the sense of modernistic, functionality and flexibility in adopting different kinds of room motif.
As for one of our clients in Cabuyao, Laguna who has a large living room with modern theme they opted for roller shade in their sliding doors and large windows. Some designers choose vertical blinds over roller shades for their sliding doors. However, there is a few disadvantages when choosing vertical blinds in sliding doors and one of the major ones is that if you have pets that goes in and out the sliding door vertical blinds vanes are prone to tearing and damage. In this case roller shades is the better choice since it is both functional and beautiful and not prone to damage due to traffic.
Modern window blinds like Roller Blinds are fascinating and attractive, offering classic and fashionable designs without taking over the attention from your home furnishings and give windows a graceful contemporary look. It also has a lot of different colors and openness factor depending on the fabric you will use, giving you the chance to choose on what you prefer for your windows. When it comes to size, roller blinds is very flexible in a sense that it can perfectly accommodate wide and/or specially high windows.
For Laguna, Cavite, Batangas area you may call Mr. Patrick Villapando at Globe 0917-583-0214 or Sun 0922-592-6111 or 0908-989-4676 .
DS Windows & Walls also offer Motorize Roller Blinds and new Dual Mechanism Roller Blinds just email us at inquiry@dswindows.com or call us at (02) 403-3262, (02) 668-9668, (02)893-1373 and 0916-311-3909 for further inquiries. You can also visit our shop located at 4th level Waltermart Makati, 3rd level Robinson Metro East Pasig City and 2nd level Pacific Mall Lucena City.
Related posts