Combi Blinds as Door Blinds – Bangkal, Makati City, Philippines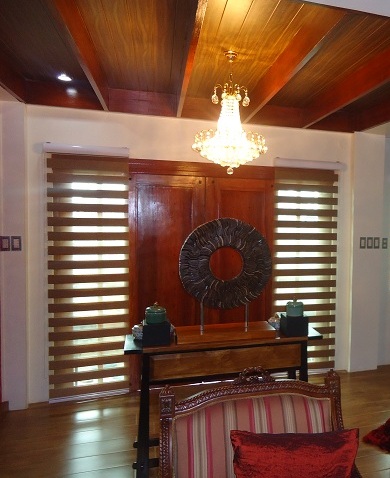 We may think that blinds are only applicable for windows. However, for fashionable people, blinds can be used anywhere like in doors, closets, windows, etc. Blinds can add a great look to your home especially when you choose proper color combination. Our client from Bangkal, Makati City opted for Combi Blinds for her door. It serves as a light filtering shade for her living room at the same time gives a beautiful and chic look while maintaining a complete privacy for her family.
Combi Blinds consists of various designs, styles and colors that may perfectly coordinate with your existing interior motif. Installation of its mechanism can be inside or outside mounting, depending on your window or door's frame need. If you are looking for highly efficient room insulator, Combi Blinds is a great choice. On the other hand, if you wish to have a total blackout blinds for a darker room, you may opt for a blackout roller blinds.
If you are looking for door blinds, window blinds, wallpapers, accordion doors and carpets, just call DS Windows & Walls Interior Supply at (02) 403-3262 / 0916-311-3909 or email us at inquiry@dswindows.com free estimate and quotation. We will provide you blinds that will surely match with your home interior. You can also visit our kiosk at 2nd level Pacific Mall, Lucena City, 3rd level Robinsons Metro East, Pasig City and 4th level Waltermart, Makati City. Hope to see you there!