Combi Blinds for Condominium Units – Salcedo Village, Makati City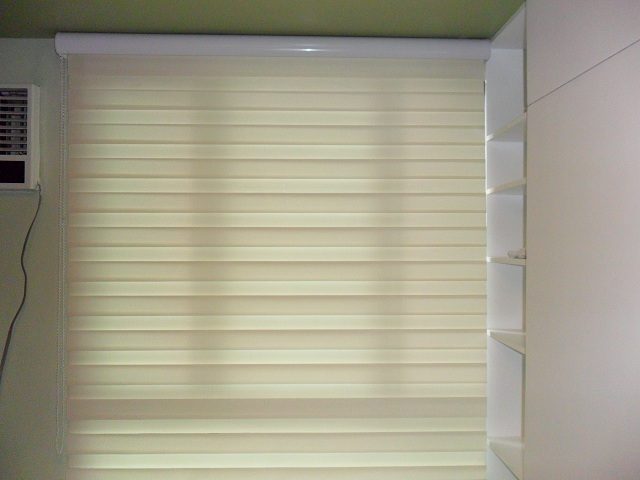 Sometimes, I am asking why most of our clients preferred to buy condominium units instead of buying house in a subdivisions or maybe in a coastal area where they can fully relax? With this trivia, I made a small research to feed my own question. I found out that condominiums are inexpensive than a family house, so instead of building a bigger house for their family, they preferred to stay in a condo. One of the advantages in staying condominium is its location. It is mostly placed near shopping centers, parks and most especially quiet near to the centers of employment. Most condominium owners are those individuals who preferred to live by their own or those small families that trust condominium's best security for their family's safety. In addition, condominium units offer convenient facilities and amenities like guarded parking space, 24 hours security, pool, clubhouse, garden etc.
Different condominium types can satisfy the different needs of those individuals who have different tastes and lifestyles. Owners of condominium units hold ownership over their respective unit but all of them have sharing responsibility like maintenance of passageway, elevator, recreation area, lobby, and many more. For safety and well-groomed condominiums, they have various restrictions to be followed like for example owning pets and choosing the color of window blinds to use in every unit. Our client from Makati City, Philippines opted for a Combi Blinds G321 MILKY for his unit because only white, cream and beige shades are allowed by the condominium admin.
Neutral colors of window treatments are available at DS Windows & Walls Interior Supply. We provided different shades of window blinds for different tastes of people and customize different sizes of blinds for their different window sizes and shapes. Aside from being the number one supplier of window blinds in Makati City area, we do extended branches at Pasig City and nearby areas for our valued customer. We have showroom at 3rd level Robinsons Metro East, Pasig City. We also render services in CALABARZON areas, Northern Luzon and even Visayas areas. We have also showrooms at 2nd level Pacific Mall, Lucena City and at 4th level Waltermart Center, Makati City if you want to see the actual samples of our products.
We offer FREE home visit for window measurement if you are within Metro Manila. For our FREE quotation, email us at inquiry@dswindows.com. You may also reach us at (02) 403 3262 / (02) 893 1373 / 0916 311 3909 for your further inquiries.
Call us now for your new window treatment!
Related posts