Combination Blinds: Acetate vs White Valence – Pleasant Hills, Mandaluyong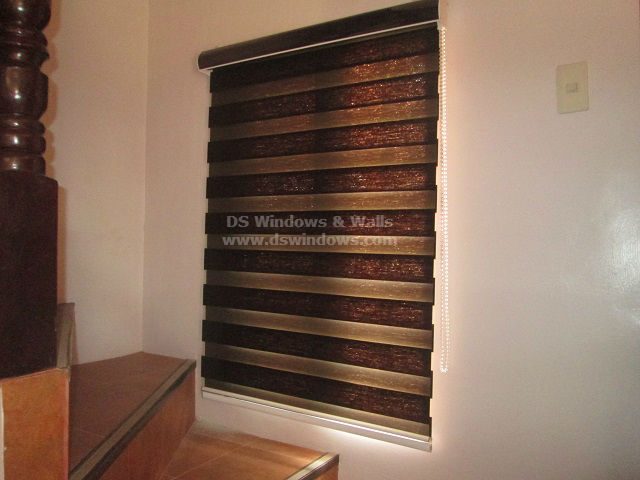 All customized window blinds have different customizable options and add-on especially in its mechanism. For example, for roller blinds you have the option to use metal chain or plastic chain, bottom rails can be white or gray, mechanism can be with head track or clip type, and so on and so forth.
For this article, we are highlighting the options you have for combination blinds valence. In DS Windows & Walls, combi blinds valence can be either white or acetate and it's purely a matter of taste. The picture below uses acetate that consist of a thin transparent plastic film wherein the fabric of your choice will be inserted inside the valence to give color to the valence instead of just white.
The photo below, from a client in Pleasant Hills Mandaluyong, opted for a simple white valence. However, instead of fabric, it's powder coated glossy white. White valence can sometimes be attractive compared to the acetate valence if your home or office has a modern or contemporary interior design especially ones with neutral colored theme.
When you order your combi blinds the white valence is the standard default component unless you specify that you wanted the acetate valence. Adding acetate valence, depending on your preference and taste, sometimes enhances the appeal of the combination blinds depending on how it matches the other things of your rooms like furniture, lighting, etc.
DS Windows and Walls offers not only different types of blinds but also different types of materials, add-on, and custom parts/components. We also offer different kinds of PVC folding doors, wallpaper and carpets. For more information about our products you may visit our webstore at www.angryblinds.com.ph or you may send your inquiries at inqury@dswindows.com. To check our different samples and swatches you may visit our store located at 4th level Waltermart Makati, 3rd level Robinson Metro East Pasig City and 2nd level Pacific Mall Lucena City.