Duo Shade Blinds: Refreshing Condo Design Overlooking Golf Course in Forbes Town, Taguig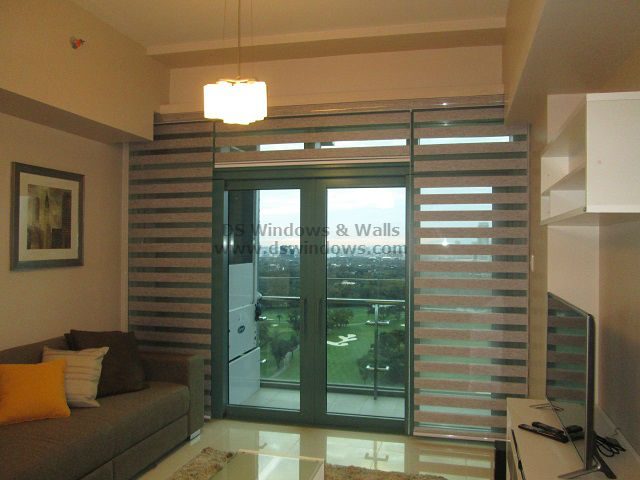 Today lifestyle always feels like it's in the middle of a chaos. Like our everyday life is constantly hectic and passes by like a blur. That's why it's very important to find solace in our own home that can bring comfort at the end of our day. One of our clients in Taguig is fortunate to buy and live in one of the condominium in Forbes Town with the stunning view of Manila Golf Course. Having a place with a magnificent view can always make people feel more relax and comfy and at the same time can make a huge difference in the whole aspect of your home design.
As for our client he uses the outside view as one of the great features of his room and living room. The large glass window in his bedroom covers almost one side of his entire wall and takes a lot of attention, with the use of Duo Shade Blinds that enhances it to look more stunning and acts as a focal point of the room and it also complement his modern theme perfectly. Like his bedroom he also opted for Duo Shade Blinds in his living room glass door and windows for the same reason to beautify and give more attraction in his window.
Duo Shade Blinds from the word duo means a set of two fabrics compose of sheer and solid part that creates horizontal lines that can be move to control the amount of sun light going inside your room and provide you enough outside view to appreciate your surroundings. Like our client he enjoys his panorama that helps uplift his mood and warm the atmosphere of his condo and with the use of duo shade blinds he can easily open his window to see his window view without fully opening the blinds and close it to offer him enough privacy at night.
DS Windows & Walls Interior Supply offers Duo Shade Blinds with a lot of different color and design you can choose from to match your theme home easily. For more inquiry please email us at inquiry@dswindows.com or call us at (02) 403-3262, (02) 668-9668, (02)893-1373 and 0916-311-3909. You can also visit our shop located at 4th level Waltermart Makati, 3rd level Robinson Metro East Pasig City and 2nd level Pacific Mall Lucena City.
Related posts