White Motif Bedroom Using White Vertical Blinds for Better Privacy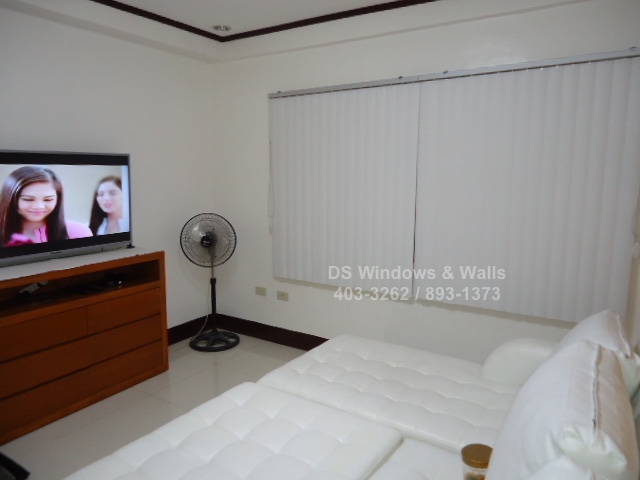 In every home the bedroom is usually the place of serenity and peace. One of the best way to create that soothing bedroom design is using relaxing color while also providing a fashionable appearance and absolute privacy. One of the all time famous color used for bedrooms that always generate a comforting atmosphere is white which for this article our client used as their room motif.
White is a simple color yet it has a natural beauty that can easily blend with almost any other color. Whether you favor minimalist room design, vintage or romantic style, white will always be a good choice.  You can even create a beautiful bedroom design just using purely white color, but if you want to make your room more dramatic and modern it's better to add a little touch of neutral color like beige or a shade of dark that can still highlight your white room concept like our client did in her room.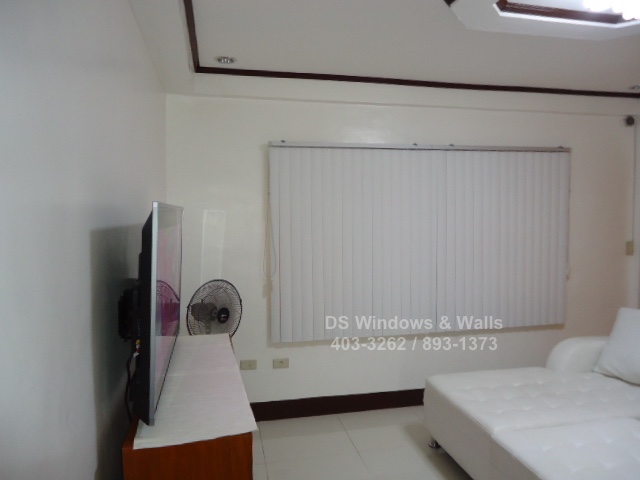 A white bedroom concept is very hard to accomplish because there's always a possibility that it will end up dull and boring but there's always an exception to the rule. Our client's bedroom used white as the dominant color using white for the ceiling, floor and wall except some of the furniture such as the television, electric fan and light oak TV rack that somehow help to emphasize the concept of the room. While in the second bedroom, as shown in the third picture, also used white concept but our client used mahogany wood flooring that gives a little bit of variety in this room. Using the neutral color for some of furniture or for the flooring can contribute a hint of subtle color to offset the white and makes it more striking. Our client creates a clean, peaceful sleeping space by just using the right white décor in the room.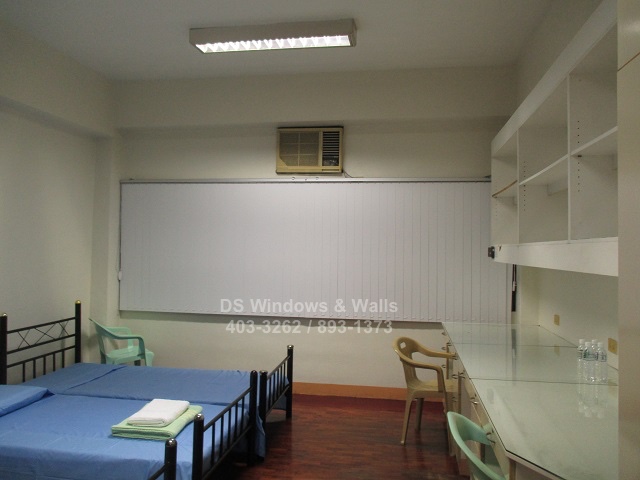 Our client also smartly used white PVC vertical blinds for the windows to follow the white concept plus it also makes the room look more modern and offers a lot of great benefits. White vertical blinds are the best choice when it comes to a white room motif because unlike using horizontal blinds or any type of fabric window cover vertical blinds is more noticeable with its long and wide slats and it's more appealing in the eye beside the white walls. As bedroom specially needs privacy, vertical blinds is a fantastic choice which it can effortlessly provide. PVC vertical blinds is one of the best sun blocker to prevent us from waking up in the morning and very easy to maintain.
For more inquiries please call us at (02) 893-1373 / (02) 403-3262 / (02) 668-9668 / 0916-311-3909 or visit our showroom at 2nd level Pacific Mall Lucena City, 3rd level Robinsons Metro East, Pasig City and 4th level Waltermart, Makati City.