Chapel Installations of Vertical Blinds : Chic and Functional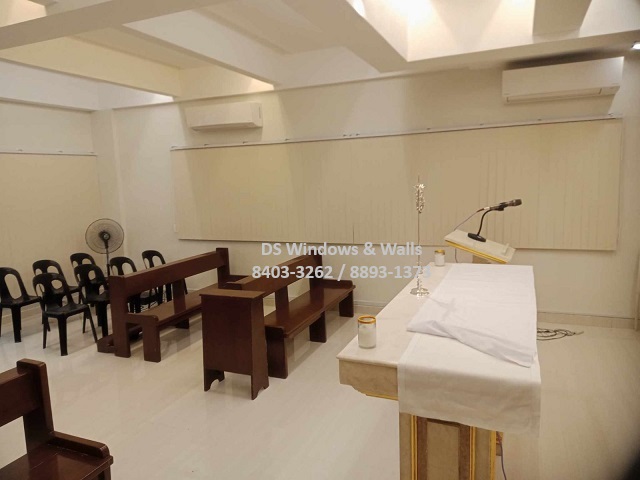 To be fully functional human beings, there are many aspects of our health that need to be taken care of. These are the physical, mental, emotional and spiritual aspects of our overall being. To take care of our spiritual well being, we tend to find a place  for prayer like a church or chapel where it's peaceful and where we feel we can truly communicate our wishes and prayers. This is why for this blog, we will expand on blinds installation for chapels, making it chic but very functional at the same time. 
Vertical blinds, from the name itself, are composed of vertical panels attached to a headrail or top casing. These blinds have a stick or chain which makes the panels adjustable for more or less light intake, depending on client preferences and depending on the environment a room spacer is in. Vertical blinds are best known for their versatility because it provides great light control and could enhance the style of an interior. For this article, we will be focusing on vertical blinds for chapels and how it contributes to keeping the place a haven of peace and prayer.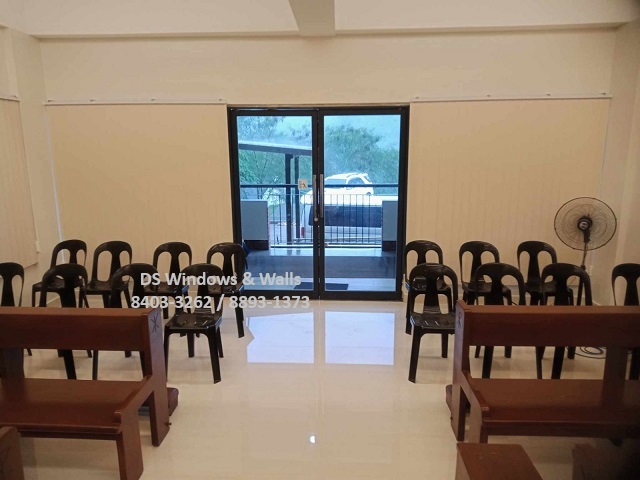 The location of the chapel in our installation is somewhere near the city. This location entails more distractions so the installation of blinds are truly helpful. The first benefit is providing privacy and cover from the other disturbances outside. Such protection and coverage would allow churchgoers to pray in silence and with the serenity they would require. Full room coverage may be achieved if the panels were adjusted to overlap one another, blocking any form of outside light from entering the chapel's premises.
Controlling the amount of light from entering the chapel can be done easily because of the vertical blinds. Chapels need to be able to adjust their light intake going from strong sunshine and dim lights because of the various activities being held in the place. Through its noise reducing capacities, vertical blinds can also help the chapel have a more tranquil and calm ambiance. Energy efficiency is also not an issue with vertical blinds because they can help insulate the chapel, vertical blinds can reduce the need for heating and cooling. On  the aesthetic side of this product, vertical blinds can give the chapel a chic and refined look. This would not eliminate the elegance and peacefulness of the place but rather enhance it. It is helpful that vertical blinds can be found in a range of materials and colors to match any decor.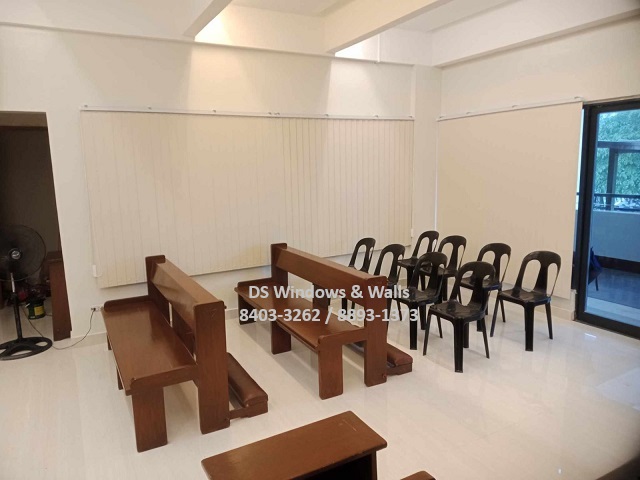 Because chapels also hold various activities, vertical blinds are the best choice may it be during services or weddings. For example, vertical blinds can be used to make a space for religious activities feel more private and intimate. This would assure attendees that they are secured and can proceed with their intentions smoothly and peacefully.  Furthermore, one can use vertical blinds to make an exquisite and romantic setting for weddings. Additionally, they can be used to conceal unsightly elements like storage spaces or electrical lines. Also note-worthy is the fact that vertical blinds can be utilized for additional occasions held in the chapel, such as performances, meetings, and concerts. They may contribute to making the mood at these events more refined, professional and appropriate for a place of God.
For more information on our PVC vertical blinds, call us at (02) 8893-1373, (02) 8403-3262, 0916-311-3909. Email us at inquiry@dswindows.com. Or visit our mall showrooms.
Related posts