Roller Blinds at Bellagio One Condominium BGC Taguig City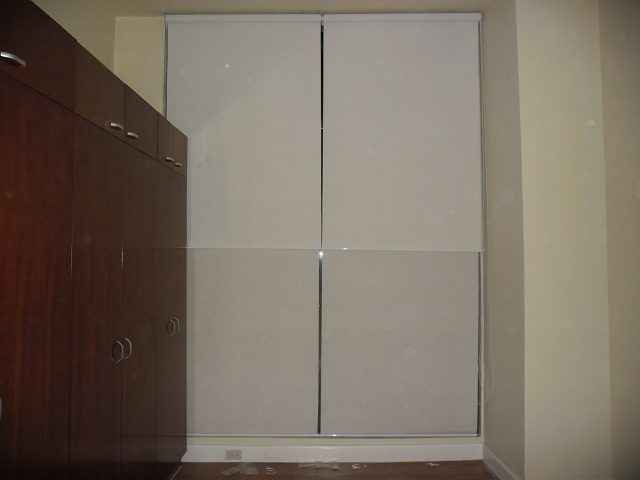 A home is very significant to a family. It is an environment which offers security and happiness as well as rest and relaxation for each occupant. The way how you express your style through decorating your home reflects your attitude and charm. If you want to changed your ordinary curtain and boring place to make it warm and more welcoming, then it is the right time for you to purchase window blinds. Installing proper window dressing can make your home more stunning and luxurious. Window dressing will last longer if you opt for the quality items. On the other hand, window dressing is also significant not only to a home but also for offices. Environment plays an important role for every people who use to go to office every day. It is the environment that matter most when you are in the office. Inconvenience due to sun rays can make you feel uncomfortable while working.
To serve you better, DS Windows and Walls' offers you the suitable window blinds for your home or offices. Roller Blinds is one of our window blinds products and this window dressing are tested for years as very functional on blocking the UV rays coming from the sun and at the same time, will suit to any room decor or office motif for it is available in a huge range of styles, fabrics and designs and very common in the market. Compared to other window blinds, roller blind are very economical. Regarding maintenance, roller blinds can easily be cleaned and washed without removing from the window.
To picture out roller blinds, simply put; a roller tube attached above the window and a piece of stiffened fabric rolled onto a roller tube, and can be rolled up and down by a continuous cord
Our roller blinds are available at total block out materials and a sunscreen material. If you opt for a complete privacy, then total block out will fit for you and if you opt for only a sheer shade effect, then the sunscreen will suit for you. However, if you opt for both sunscreen and total block out for your windows, we also offer double roller combination.
One of our valued customers from Bellagio One Condominium, Global City Taguig opted for a total block out material, sunscreen material and a double roller combination of total block out and sunscreen materials. For our customer, it is worth spending due to its quality and function. She was able to met her expectation from us and it is a great pleasure for us as well.
For more information and inquiries, you can reach us at (02) 403-3262 or 0916-311-3909, or email us at inquiry@dswindows.com.
You can also visit our show room at 4th floor Waltermart Center, Makati City for the actual samples of our products and our staffs will guide you.
Related posts