Roller Blinds Installed in Convenience Store: Palanan, Makati City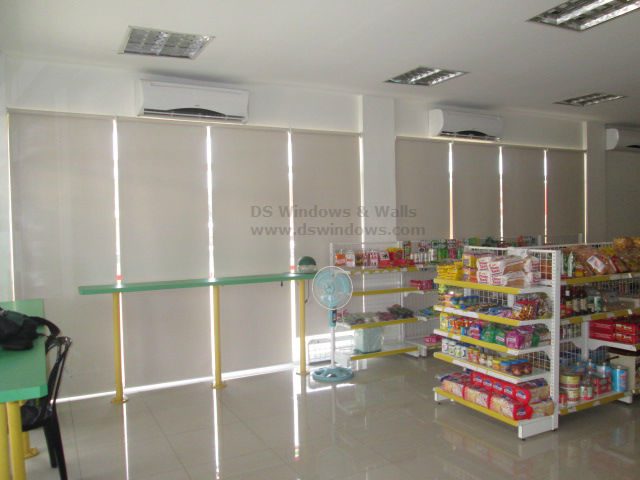 Convenience stores are usually located in an urban area, alongside a busy road or near a railway or railroad station or other transport hub. Some of the convenience store offer goods with higher prices than the ordinary grocery stores or supermarkets. Convenience store's walls are usually made of clear glass to make a clear view inside and outside the store. Our client from Palanan, Makati owns a convenience store. Their problem of having a wall that is made of glass is that every afternoon the sunlight penetrates easily that cause hot temperature inside the store, which gives uncomfortable feeling in every consumer.
One of DS Windows & Walls friendly staff suggested our client to opt for a block out type of roller blinds. Block out roller blinds are the type of fabric that can block the sunlight that will pass through your window. It also helps reduce the extreme hot temperature inside your room. Our client choose Pavillion 833 Champagne, which is a thick fabric that can fully block the sunlight that will penetrate inside your room. It also offers complete privacy especially when their customers are eating. Roller blinds are made with different kinds of fabric, colors and pattern, so that you can choose which suits best in your home or in any commercial establishments.
For more information about our products, you can email us at inquiry@dswindows.com or call us at 02) 893-1373 / (02) 403-3262 / (02) 668-9668 or 0916-311-3909. You can also visit our shop for more products sample and swatches located at 4th level Waltermart, Makati City, 3rd level Robinson Metro East, Pasig City, 2nd level Pacific Mall, Lucena City.
Related posts