Roller Blinds when Renovating Basement to a Soothing Guest Room – Malibay, Pasay City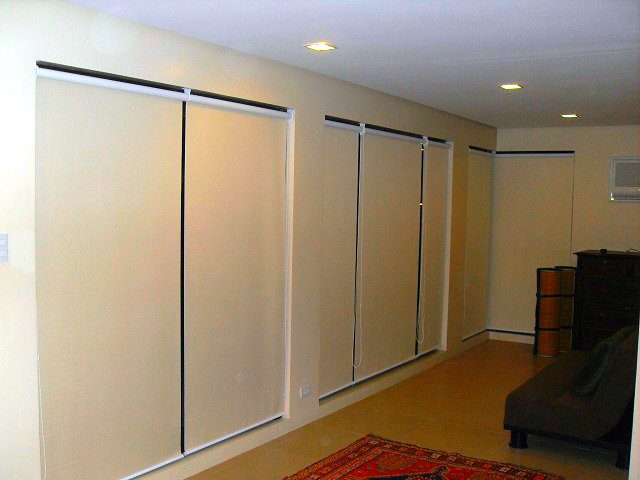 Are you planning to renovate your basement area to make it a more functional guest room? Renovating basement is a great investment and adds value to your home. Basements are often an unattended area, sometimes used as a car garage and where water leak through any opening which makes it notoriously damp, humid spaces. Thus, renovating it to soothing guest room is a great asset.
Our client from Malibay, Pasay City transformed his basement to a more valuable room. He preferred to renovate it as his guest room. Since basement is commonly found in a lower part of a house, it is more prone to water leakage problem. Aside from concrete wall, he put another glass wall on it and he opted for roller blinds for his basement's glass wall. Roller blinds can regulate room temperature, durable and can add beauty and elegance to your guest room. Lighting is necessary in a basement since it is the lower and darkest part of the house. Light wall paint and dark colors of furniture can add beauty and brightness to your basement. Rugs and carpets are the right materials to set off space at the same time serves as an interesting piece to your basement interior.
There are many options if you want to renovate your wide basement. You can make an entertainment room, a bedroom, office and a gymnasium out of it. All you have to do is to utilize its space, divide it correctly, and design it with beautiful and soothing interior.
Aside from Roller Blinds, you can use Vertical Blinds and Combi Blinds as glass wall cover. DS Windows and Walls' offers custom-made roller blinds that are affordable, very easy to install and washable window treatment. For your further queries, just call us at (02) 403-3262 or 0916-311-3909 of you can email us at inquiry@dswindows.com. Feel free to visit our showrooms at 2nd floor Pacific Mall, Lucena City, 3rd floor Robinson Metro East, Pasig City and 4th floor Waltermart Center, Makati City.