Minimalist Dining Area with Classic Venetian Blinds – Forbes Park, Makati City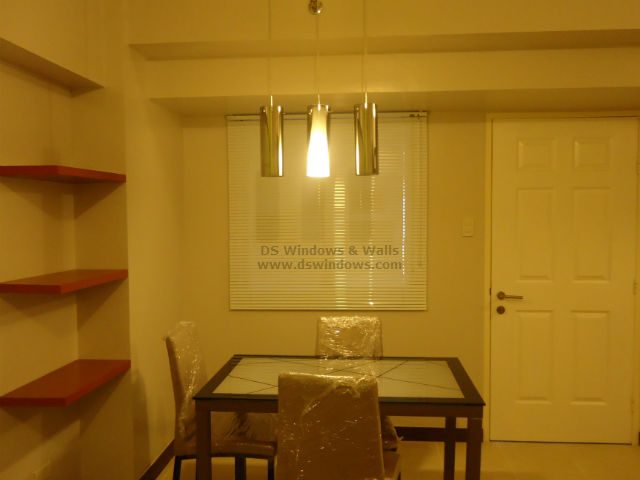 What is minimalist design? Everybody must hear at some point the word minimalist design before or some don't even have a slight idea what it truly looks like. The first impression when it comes to using minimalist design is always simple that only included the necessary furniture in a room. Quite frankly it usually is, but this design is also one of the most popular house motifs today because it's not literally look just simple it can be enhanced to look stylish with a little touch like our client dining area in Forbes Park, Makati City.
Living alone she doesn't need a large place all for herself and contented with her small place but that doesn't mean she don't want to make the best out of it. As small as her pad really is she still want to make it look great even though she had limited choice because of the little space just like her dining area. Since she's living alone a small table with four chairs is enough for a dining table plus she also save space and she installed a chic looking chandelier exactly at the top of her table for interior lighting. For the finishing touch she used a classic white aluminum venetian blinds for her window treatment that match with white door and table and beige wall that works together accordingly.
As you can see in the photo our client dining room only include few furniture that coordinate well together a chic chandelier for beautiful light fixture, simple yet looking elegant dining table and venetian blinds as window cover that became a perfect attributes for the wall just a few, simple and mandatory furniture come together enough to make your dining area stand out and a perfect example of a stunning minimalist design.
Our client uses Venetian Blinds as window treatment a simple and most probably the most common blinds today but as well can be the most stylish blind with a perfect color and furniture coordinating. With different color and pattern venetian blinds can easily complement different design such as minimalist, traditional, modern or etc. It also has a great function with affordable price in fact it's possibly the cheapest when it comes to price but surely not in durability.
For more inquiry please email us at inquiry@dswindows.com or call us at (02) 403-3262, (02) 668-9668, (02)893-1373 and 0916-311-3909. You can also visit our shop located at 4th level Waltermart Makati, 3rd level Robinson Metro East Pasig City and 2nd level Pacific Mall Lucena City.
Related posts