Rust Resistant Aluminum Blinds Installed at Curved Bay Window – Mandaluyong City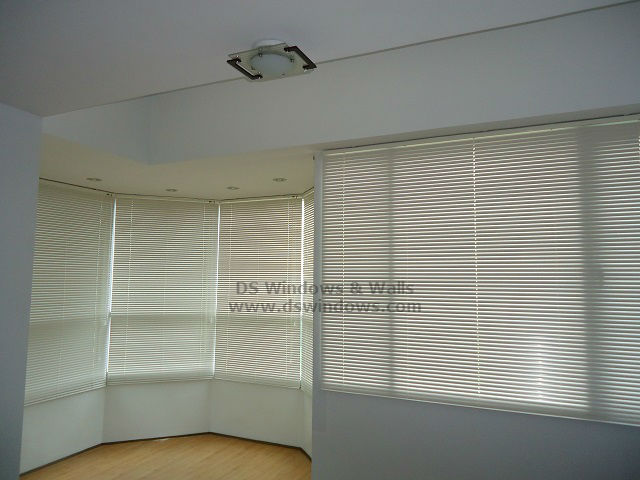 Have you ever wondered why despite of so many years mini blinds still exist and still is popular in the market today?  You can still see it in so many places and establishment or some of your friend's home or neighbor. It's widespread regardless if it's residential or commercial.
Mini blinds are produced using different materials but the most common are aluminum, vinyl and bamboo.  Aluminum Mini Blinds is light-weight and durable and are good choice for rooms facing the sun or receives too much sunlight because it doesn't allow much light into the room unless it's open.  Aluminum mini blinds are also both rust resistant and water proof. It's also available in different colors and possible to mix with different color combination in one panel to have a more unique appearance.
While Vinyl (plastic) Mini Blinds look quite similar to aluminum mini blinds and they are also lightweight but less durable and easily damaged since they have a tendency to snap easily. Vinyl mini blinds also tend to be more translucent, allowing more light to filter through the room, however; these blinds are more budget-friendly and usually are ready-made i.e. you cannot customize it to your window's dimension.  Wood or Bamboo mini blinds on the other hand, are more expensive, although look classy and elegant. These bamboo mini blinds are considerably heavier, generally requiring more mounting hardware and only available in wood finish color as well as other hues, including black and white.
Mini blinds have a number of advantages besides being budget-friendly, specially the one that's made of aluminum. One of our clients in Mandaluyong City chooses aluminum mini blinds not only just for its rust resistance, inexpensive and durability but also because compared to the other blinds only mini blinds has the smallest mechanism that can fit well in her curve bay window. Bay windows are one of the most difficult window types to find a suitable window cover because of the angular spaces. Bay windows usually include at least three windows two angled windows and one in the middle just like for our client. The main cause of challenge for bay windows is getting the blinds fitted in the allotted spaces without colliding in the corners that aluminum blinds can easily fit well. Our client also chooses white aluminum mini blinds just to make the room more brighter, clean and relaxing.
For more inquiries please call us at (02) 893-1373 / (02) 403-3262 / 0916-311-3909 or visit our showroom at 2nd level Pacific Mall Lucena City, 3rd level Robinsons Metro East, Pasig City and 4th level Waltermart, Makati City.
Related posts