PVC Vertical blinds as Simple yet Unique Accent for Windows – Las Piñas City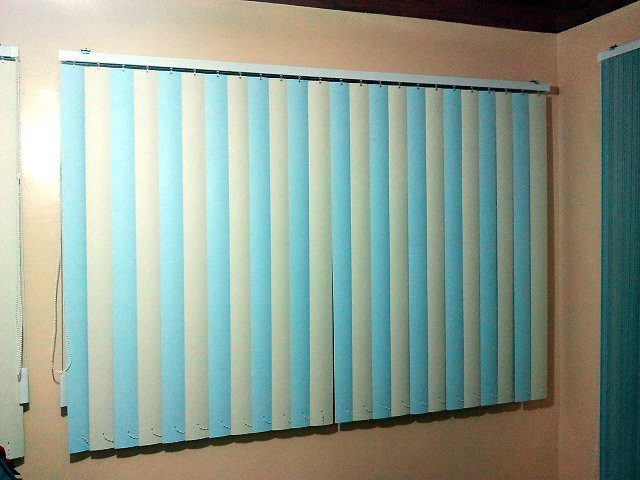 Wall and window accent can be beautiful and eye-catching when properly match and complementing each other. Wall accent can be a home paint, wallpaper, an oil painting or a window dressing. Accent may bring positive aura into a room and inspire others.
Our client owns a home in Las Piñas City, Philippines and they decided to renovate and change its design to invite good auras into a room. Re-painting wall and purchasing new window cover that may complement and serves as accent to a wall are their first step. Our client selected two colors (cream & blue) for PVC Vertical Blinds as their window dressing. PVC Vertical blinds not only serves as home window covering, but also as an accent for their wall. The blue color of PVC Vertical blinds serves as a very striking color and the combination of two colors gives their room a look of a livable and unique space. PVC vertical blinds not only regulate the glare from outside, but also serve as simple yet unique accents for wall that helps give life and at the same time create color flow and a seamless transition from space to space.
Valiant colors are a good choice of color for an accent wall because it put emphasis on a space without overwhelming it. For more information regarding home interior materials like different types of blinds, wallpaper, carpets and accordion doors, do not hesitate to call DS Windows and Walls at (02) 893-1373 / (02) 403-3262 / 0916-311-3909 or email us at inquiry@dswindows.com. You may also visit us at 2nd level Pacific Mall Lucena City, 3rd level Robinsons Metro East, Pasig City and 4th level Waltermart, Makati City.
Related posts