Blackout Roller Shades Mounted Inside Wooden Sliding Glass Door – Alabang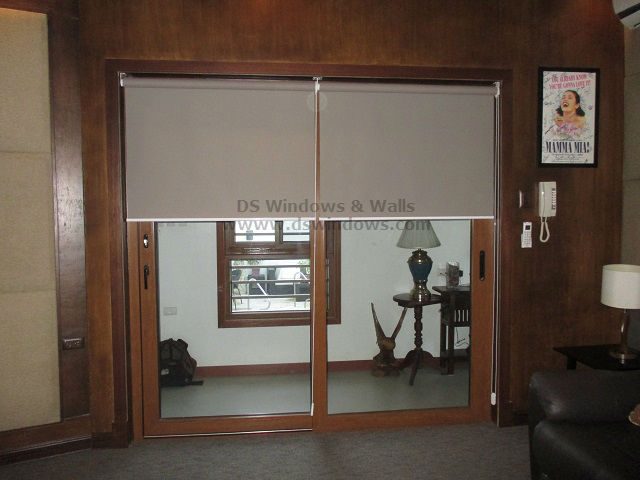 All windows have different frame and depth all around the windows. And the window depth and frame holds an important factor in determining how your blinds will be mounted whether it's inside or outside. If you choose to install your blinds inside mounted you must consider if your window has enough space that can accommodate your chosen blinds. Different depths are needed base to what the blind you choose because the space in that depth is for the bracket or the mechanism to be installed.
Inside mounted blinds gives you a much cleaner look, more streamlined and avoids protruding mechanisms and create a general flat surface on your wall and windows. Inside mounted blinds also allows you to view your window frame that in most circumstances holds a beautiful design for your wall that has a great influence in your home motif.
Our client in Alabang, Muntinlupa City chooses to install their Blackout Roller Blinds mounted inside a wooden sliding glass door. Their door is a sliding glass that is covered with pure wood in the side from the edge of the glass itself to the door frame and the wall. The frame doesn't have any carving design its plain and smooth, but the focal design of the door is in fact the simple yet classic and chic narra wood motif. If they choose to install it outside it will prevent them to see the door frame and it will somehow reduce the impact of the whole package design of their sliding door.
Choosing Roller Blinds also complement the chic look of the door. It's simple and does not outshine the door but it matches beautifully and even enhance it. They also choose a color for the blinds that match with the brown wall and the gray carpet flooring. Using Blackout Roller Blinds gives our client the solution in preventing the sun from entering their room and offer them to even control the amount of sunlight to pass through.
For more inquiry please email us at inquiry@dswindows.com or call us at (02) 403-3262, (02) 668-9668, (02)893-1373 and 0916-311-3909. You can also visit our shop located at 4th level Waltermart Makati, 3rd level Robinson Metro East Pasig City and 2nd level Pacific Mall Lucena City.
Related posts