Dual Roller Blinds: Sunscreen and Blackout in One Window – Rockwell Makati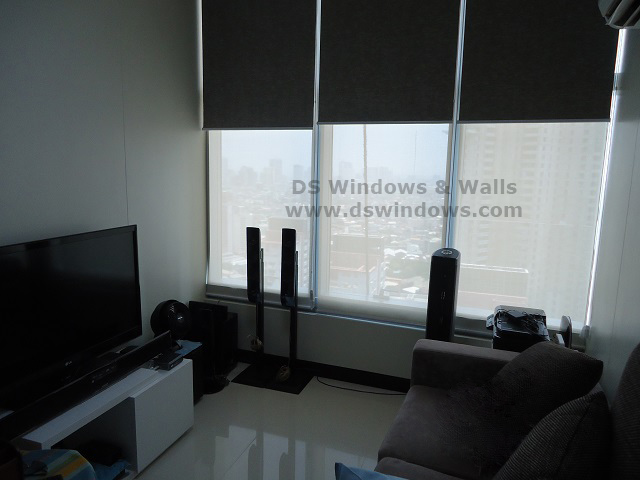 Roller Blinds have always been one of the most popular window treatments available.  One of its best qualities is the clever control mechanism with a chain loop that allows you to easily and precisely adjust your blinds upward and downward continuously.  They also have an advance fabric factor the sunscreen and the blackout type that can be made in different design such as contemporary textured weaves, smooth minimalist plains, translucent, screen, and opaque.  All this clever fabric has superior solar protection and excellent insulating properties.
Sunscreen and blackout fabric is the main reason that people favor roller blinds.  Blackout Roller Blinds are the most suitable choice for commercial windows.  It has the air of simplicity, sophistication and it's efficient to provide privacy and protection from the sun especially for establishment located on a higher floor in a building. While a sunscreen roller blind is popular, especially for residential area because opposing to blackout sunscreen fabric can provide light filtering and the view can be maintained while reducing the sun penetration.
But you cannot also deny that they have a weak spot since blackout cannot provide filtered light without pulling up the blinds while sunscreen fabric cannot fully give 100 percent privacy and entirely prevent sunlight from entering your room.  That's why Dual Roller Blinds are developed that offer the best of both worlds, with a combination of light-filtering and block-out fabric in one mechanism giving you maximum control of light, heat and privacy.
Dual Roller Blinds also known as Double Roller Blinds is an innovative blinds that allows you to combine two types of fabric with the use of a double bracket so you can switch between blackout blinds for complete privacy and darkness, to transparent sunscreens for letting in the light and enjoying the outside view.  Our client in Rockwell Makati is one of the people who fancy this new advance blinds to install in their homes.  These stunning dual roller blinds are ultimate in contemporary style fits with our client home motif and are perfect for controlling heat and glare with the option of maintaining the beautiful outside view is the best window treatments can anyone have. Our client can enjoy a multi-functional window blinds and create a unique and sophisticated window furnishing that enhance the look of their room.
DS Windows & Walls is one of the leading company in providing blinds, carpet, accordion door and wallpaper. For more inquiries please call us at (02) 893-1373 / (02) 403-3262 / 0916-311-3909 or visit our showroom at 2nd level Pacific Mall Lucena City, 3rd level Robinsons Metro East, Pasig City and 4th level Waltermart, Makati City.
Related posts