Pros & Cons of Wood Blinds: Installation in COMELEC Intramuros, Manila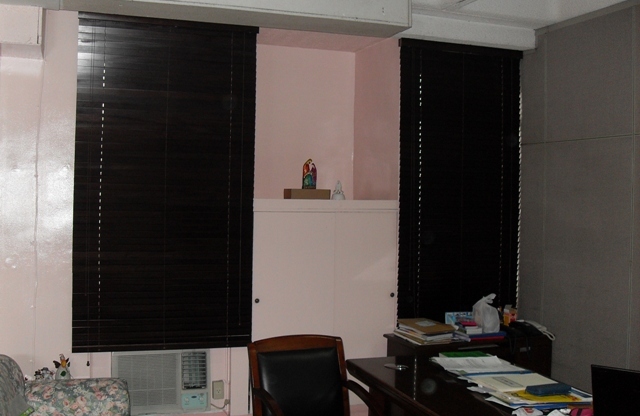 For many, affordability & quality comes first when purchasing an item, but for some, they prioritize luxury & quality. When it comes to window blinds which can provide you luxury and at the same time with good quality, DS Windows & Walls' can offer you Wood Blinds. Wood Blinds can bring the nature feel back into your home or office.
To fully evaluate the characteristic of Wood Blinds, here are some of its Pros & Cons:
PROS
• It can withstand through time even when exposed to sunlight
• More natural wood stains are available and it cannot only high lightened the natural grain but can also maintain its look
• It can bring you cozy and warmth surrounding in an effortless manner
• 2" slat size are perfectly made to maintain high level of privacy
• Since Wood Blinds are made up from the name itself, they tend to be of high quality
• Easier to raise or lift because of its lightweight
• Various designs are available, click here.
CONS
• It can be traditionally in high cost compared to other types of blinds
• It tends to accumulate much dust and requires cleaning more often
• It is not moisture and scratch resistant
Despite of its high cost compared to other types of Window Blinds, Wood Blinds can create richness and warmth which other types of Blinds cannot offer. Our client from COMELEC, Intramuros, Manila opted for Ebony color to of Wood Blinds installed at their office.  For your inquiries, reach us at (02) 403-3262 / 0916-311-3909 / inquiry@dswindows.com.
Related posts