Wood Blinds for Designing a Modern Ancestral Home – Sariaya Quezon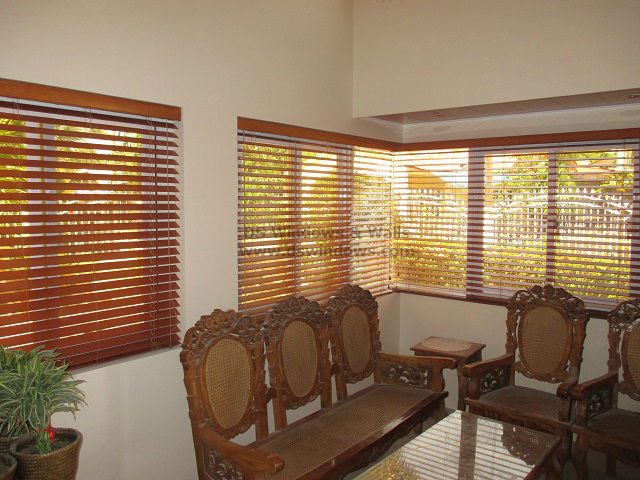 Only a few lucky people can live in ancestral houses and most of them will want to preserve it just like our client in Sariaya Quezon. Although our client also decided to make a little change in their ancestral home because they want to make a difference and a trademark of their own. They want a house that feels intimate and personal that does connect to them and not just an ancestral home that passed down within the family that was left behind by time. They wanted to preserve their historic ancestral house and restore it to its former glory while combining it to a modern look that's feels more connected and comfortable to them.
Repainting and repairing is always part of the renovation process, but since our client also wants to preserve the original feature of the house they didn't change any of the foundation of the house although some were fixed and replaced, still the origin remains.  As for the wall paints they use subdued colors for softer look while the furniture has wood color.  They wish to preserve the ancestral home with a little touch of modernity by using contemporary furniture with brown shades of color that can bring both traditional and contemporary look.  Since windows treatment can greatly affect the visual appearance of the place using real Wood Blinds for a modern ancestral house is most suitable for their objective.
Wood blinds is one of the best window treatment when it comes to traditional theme but it's also used for contemporary style that's why our client favor to use this blinds for their modern ancestral home. Wood Blinds is one of those types of widow treatments that can live forever, a blind that never gets old or out of fashion. Using wood blinds is also has it benefits when use in ancestral home because you can pass it down for the next generation and will still looks fantastic in the future. Using a calm color, contemporary furniture and suitable window blinds our client achieves the spectacular house with a modern look they wanted.
DS Windows & Walls is one of the leading company in providing blinds, carpet, accordion door and wallpaper. For more inquiries please call us at (02) 893-1373 / (02) 403-3262 / 0916-311-3909 or visit our showroom at 2nd level Pacific Mall Lucena City, 3rd level Robinsons Metro East, Pasig City and 4th level Waltermart, Makati City.
Related posts