Choosing Between Solar Shades and Blackout Roller Blinds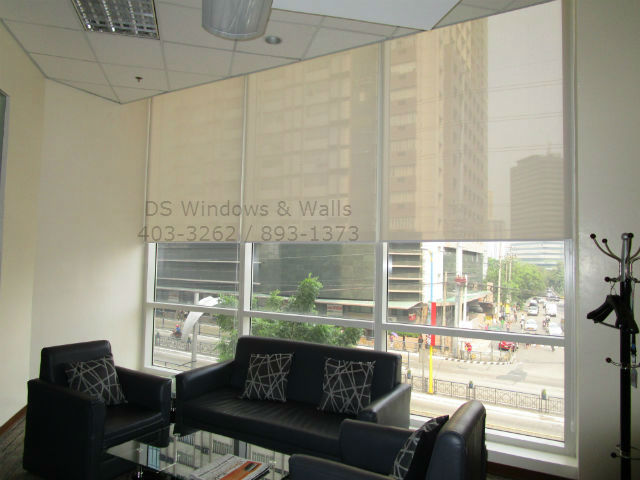 There are two types of roller blinds fabric namely the blackout and the solar shades. Both types are manufactured using fabric materials made of polyester and PVC. The only difference is the openness factor of each fabric. The openness factor of the fabric represents the density of the weave that control the amount of open and close space in the fabric. When the openness factor or O.F. is low it provide a better daytime privacy and glare reduction while when the openness factor is higher it provides a better view and allows more natural light yet reduce daytime privacy and doesn't reflect much of heat.
Solar shades have different percentages of openness factor and is usually around 10%, 7%, 5%, 3% and 1%. You can see the difference of how translucent the solar shade fabric can be based on its openness factor as shown in the first (5% translucency), second (3% translucency) and third (1% translucency) photos. A lot of solar shades benefits are associated with the low or high openness factor of the fabric. For example, it will depend on the fabric of how much sun glare and privacy can be reduced and how visible the outside view can be seen.
As you can see in the first image with 5% openness factor fabric, it offers clearer view of the outside that lets you enjoy more of your surroundings and allow more natural light to enter the room. While in the second and third photos which have 3% and 1% openness factor, it almost only shows a shadow and some traces of the building outside yet it gives you more privacy and still let natural light inside the room not just as freely like in the first image.
A lot of people adore using solar shades both in residential and commercial places, but there are also instances that blackout roller blind is more suitable and sometimes even necessary to use as window cover. A lot of high building today are mostly surrounded with huge windows and just imagine sitting in a room near or worse, facing the window in the middle of the day where the sun is at its peak. Too much sunlight glare and heat can make anyone feel uncomfortable and surely no one can ever bear staying in that particular spot.
Blackout roller blinds offer lots of benefits like 100% privacy that's specially needed in a confidential room such as conference area and bedroom. It also prevents sunlight from entering the room, even the slightest light can't pass through, which is great for rooms where the dark is needed like auditorium room, entertainment room and for some places that sun glare is not welcome.
There are even special occasions like as you can see in the picture below where the top window is using blackout roller blinds to prevent too much sun glare from entering the house while at the lower window is using solar shade to maximize the use of natural light to brighten up the room and vibes.
Blackout and solar shades have their own differences and own advantages that other one don't have, but a lot of us would like to have both the ability of each fabric type. That's why the double mechanism is manufactured to enjoy the best of both worlds where you can combine blackout roller blinds and solar shades in one special mechanism. Using just double mechanism roller blinds as you can see in the last two photos where the blackout fabric is placed behind the solar shade for much better light and privacy control.
With double mechanism you don't have to decide which fabric type is suitable for your room since it's a matter of pulling down the one that you need. Say you have an afternoon sun in your window, then in the morning you can decide to pull down the solar shade and pull down the blackout during afternoon when the sun is most intense.
For more inquiries please call us at (02) 893-1373 / (02) 403-3262 / (02) 668-9668 / 0916-311-3909 or visit our showroom at 2nd level Pacific Mall Lucena City, 3rd level Robinsons Metro East, Pasig City and 4th level Waltermart, Makati City.
Related posts